Dancing lessons and workshops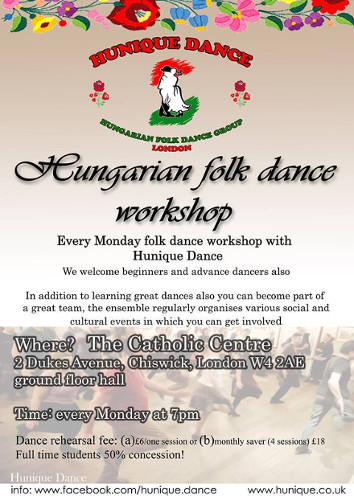 Hungarian Folk Dance teaching with Hunique Dance in London!
If you are a beginner, advanced or professional dancer or someone who simply just enjoys a bit of dancing, then we look forward to seeing you on one of our rehearsals. Currently, we teach dances from the regions of Mezőség, Kalotaszeg, Küküllő, Rábaköz. The rehearsals are two hours long, and start with an approximate 20-30 minutes warm-up and continue with fun-filled dancing and more dancing…. We recommend if it is possible that you wear clothes and footwear suitable for dancing. After the rehearsals, we normally hang out for a drink and a chat in the pub where the dance sessions are held. Those who enthusiastically attend most of the rehearsals and are keen to take part in further ones, will be given the opportunity to participate in the performances of Hunique Dance.
Venue:
Every Monday 7-9:30pm dance rehearsal
The Catholic Centre
Main Hall
2 Dukes Avenue, Chiswick, London W4 2AE
Dance rehearsal fee:
(A) one single dance session £6
(B) one month (4 lessons) saver option £18
Full time students concession 50%
Please ask for more information on the facebook: www.facebook.com/hunique.dance
Hungarian Folk Dance teaching with Hunique Dance in London!