Everything I saw watching this weekend's football World Cup qualifiers – the fiasco of the Hungarian team and the passion of the English players – made me think and dig into Hungary's football history to find motivation for us to believe in future football success. Is there anyone out there who have never heard the name 'Puskas' before? He is considered to be the best football player of all times (at least in Hungary) and he was member and captain of the most succesfull Hungarian National Team of all times, the so called Mighty Magyars (or Golden Team) which remained unbeatable between 1950 and 1954 for 32 consecutive games.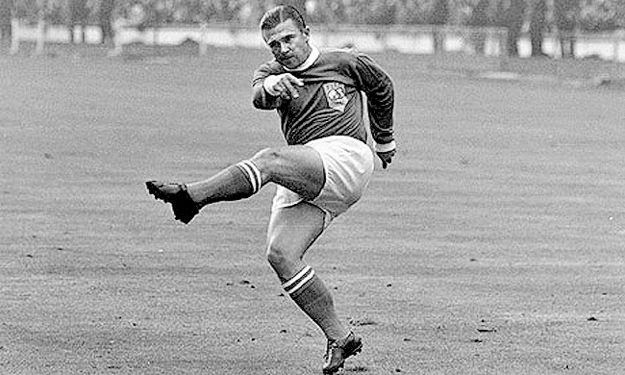 Ferenc Puskás (Purczeld) was born on the 1st Apr 1927 , Budapest. His father was a football player, later coach for the Budapest Honvéd (earlier Kispest Honvéd) football team, his mother was a needlewoman. Football took part of his life from his early years playing with his friends at the playground after school.
Around the age of 10 he got into Honvéd's  kids football team, 1.5 years earlier than the minimum age requirement, using fake papers of reference of age under the name Miklós Kovács. He got into the adult team at age 15 using the same method and name. After the first match (1943) his mates gave him the nickname Öcsi (Buddy). During his years with Honvéd the team won the Hungarian Cup five times, he was the highest scoring individual four times in Hungary and once in Europe.
Between 20 Aug 1945 and 14 Oct 1956 Puskás scored 84 goals on 85 international matches within the Hungarian National Team. There were no players who could beat this record since then. 1953 was the year of the match called "The Game of the Century" which took place in Wembley, London. The Mighty Magyars could master a 6-3 victory against England who had not lost a game for 90 years before on home ground. It was certainly a day to remember. After a match in Vienna at the end of 1956 he and a few team mates decided to stay until the political situation cleared in Hungary. After the revolution was beaten he did not go home.
In 1958 Emil Östreicher, an old friend of his became the sport director at Real Madrid and his first thing to do was to invite him to join the team. Between 1958 and 1966 he played 372 matches, scored 324 goals, helped Real Madrid to win the European Cup in 1960 scoring 4 goals on the final against Eintrach Frankfurt and won the Richichi with his 12 goals in 7 games. In 1961 he became a Spanish citizen which gave him the opportunity to play as part of the Spanish National Team at 1962 World Cup in Chile. Unfortunately he could not score in three games. In 1966 at the age of 39 he retired as a player and from 1967 worked as a coach in the USA, Kanada, Greece and other countries. This last one was his peak as a coach, in 1971 Panathinaikosz played the European Cup final against Ajax and won the national league in 1972.
After finishing his coaching career in Australia he finally moved back to Hungary in 1991, won and got different prizes and titles and in 2002 Budapest's biggest stadium has been named after him. From 2000 his  Alzheimer Syndrome caused massive health issues, he needed to visit hospitals quite often. He was taken to hospital in Sep 2006 a last time where he died of pneumonia on 17 Nov. After his death streets and squares got his name country-wide, statues has been raised for his memory.
I beleive if Puskás's heritage could inspire the members of the current Hungarian football society, one day the world would be talking about the Mighty Magyars again and I would be happily sitting on the sofa (or in a pub, stadium, etc.) and support the team of my country with my whole heart.
(Eszter Boros, 15 Oct 2013)